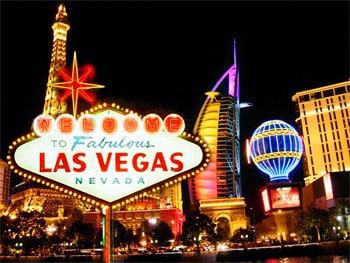 After a busy tax season, we at Sobul, Primes and Schenkel always like to do something special for the staff, to reward them for the long hours that they have put in over the last few months. What better way to blow off some steam than a trip to Las Vegas!
On Sunday, April 19th, the SPS staff, all 25 of us, took a jet plane or hit the road to travel to "Lost Wages"! SPS provided rooms at the Wynn Hotel for everyone, but we sure didn't stay there too long! On Sunday evening, we boarded the "party bus" from the Wynn to Caesar's Palace Hotel, where we all enjoyed wine, beer, cocktails and hors d'oeuvres at TREVI Restaurant in the Caesar's Shops area.
We then walked the short distance over to the Mesa Grill Restaurant for a fabulous three course meal. Of course, our master of ceremonies, Rick Schenkel, made sure that everyone had a terrific time and represented the partners in thanking the staff for all of their hard work.