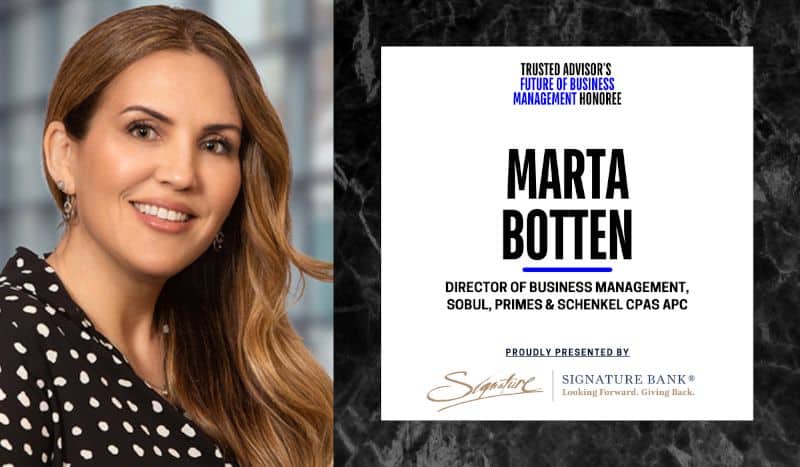 The business management team at Sobul, Primes & Schenkel is known as one of the best in the field. So, we weren't surprised when Marta Botten (Principal) landed on another list of honorees. This month, Marta was honored on Trusted Advisor's The Future of Business Management list.
"This year's list highlights rising stars that are revolutionizing the field, alongside seasoned vets who are re-inventing 'business as usual' and those who are in between: who share the vigor and excitement to improve the financial security of their clients, while knowing the ins-and-outs of building a solid financial foundation an artist can rely on for decades," said Matthew Hoffman, Founder and CEO of Trusted Advisor.
About Marta
Marta brings to Sobul, Primes & Schenkel more than 25 years of experience in business management, client accounting, and Datafaction expertise. Marta has a comprehensive knowledge of Tour Budgeting and Accounting, General Ledger, Financial Statements, Investments, Multi-State Payroll, Sales/Payroll Tax Returns, Business and Individual Tax Preparation.
Marta plays a lead role in the day-to-day operations of the Business Management Department, ensuring client accounts are well-managed and keeping a close eye on the details. She has extensive knowledge of the entertainment industry, supervising the financial affairs of high-net-worth clients ranging from musicians, actors, writers, and directors, to the executives who manage the talent.