One Family, Many Satisfied Clients
Somewhere around the time that Apple Computer wowed the world with its ground-breaking 1984 Super Bowl TV ad, a young accountant, David Primes, heard from a friend that Larry and Muriel Goodman, who had recently sold their food-manufacturing business, required accounting expertise.
No big deal? Of course it was. The Goodman's friend understood the importance of wealth management. That was a very special referral indeed, as time would tell. And so began the multi-generational journey of SPS with the Goodman family.

Before too long the Goodman's son, Donald, who was then starting his own Los Angeles based food-processing business, Don Lee Farms, enlisted the help of David after hearing his parents go on and on about the accounting assistance they were receiving.

Fast forward 30 years and now four generations later, David is still providing the now-extended family with financial guidance. David has afforded accounting services and advice to the family's parents, four children, 12 grandchildren and the recent addition of a great, great grandchild.
SPSCPA FOR A LIFETIME
When Larry Goodman met David Primes of Sobul, Primes & Schenkel 30 years ago, little did he know it would be the beginning of a lifetime of friendship and financial guidance.
SPS has been a part of the Goodman family, all four generations!
David Primes has "attended a lot of (Goodman) weddings, too," he says. "I love knowing each generation as it comes along."
A VALUED TRUSTEE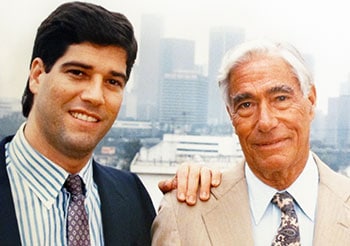 Donald's company is now a leading producer and national distributor of fresh and frozen fully cooked food items sold to retail, club, food service and school channels. "My Dad thought so highly of David he made him trustee of his estate — and then so did I. Later on, when David was taking care of my father's estate, he was able to tread the dangerous waters of several family personalities without a problem. He has an innate sense of fairness about him and that has helped our family tremendously."
"Though it's not unusual for our firm to work with multiple generations of families and businesses," says David, "there are none this extensive."
GUIDING BUSINESS TRANSITIONS
In addition to administering the family trusts, David provides the Goodman's extended family with transitions including business acquisitions, sale restructuring and wealth management. "And I've attended a lot of weddings, too," he says. "I love knowing each generation as it comes along."
Donald went so far as to appoint David as temporary financial head of day-to-day operations for Don Lee Farms. It very well could have been a tenuous time. "When our long-time CFO retired, we didn't' have anyone with the skills to immediately take over the position," he remembers. "David already understood our business quite well so, to me, it was a no-brainer."
My Dad thought so highly of David he made him trustee of his estate. And then I did the very same thing.
During the next two months, David, along with specialists on the SPS team, helped Don Lee Farms search for a seasoned CFO. That includes advertising, screening applicants and presenting two candidates to Donald, one of whom was hired.
"I was surprised at how much they knew about my business," Donald says. "They made the executive transition seamless."
David leaves the accounting door open for the next generation of Goodmans. "I'll probably be out of accounting by the time the fifth generation comes along. But you never know…"